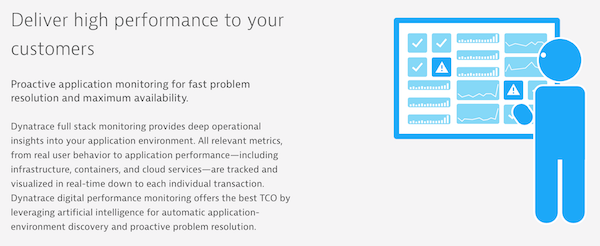 Webinar: Firma Dynatrace lahenduste tutvustusseminar



Application Performace Monitoring
Dynatrace provides unique operational insights. Leverage full stack monitoring from the front-end to the back-end, to infrastructure, to the cloud. Understand how application performance impacts your customers.
Monitor real user data, application performance, infrastructure and cloud environments. Get all metrics in real-time!
Dynatrace auto-detects all application dependencies and tracks transactions across all tiers.
Resolve performance or availability issues before they impact your customers powered by artificial intelligence.
Seminaril tutvustame ka teisi lahendusi:
Optimize customer experience
Full insights into every customer journey for better business decisions.
Build better software faster
Digital performance management for metrics-driven continuous delivery.
Lisainformatsiooni lahenduste kohta saab siit:
https://www.dynatrace.com/solutions/

Gartner Magic Quadrant for Application Performance Monitoring Suites
https://www.dynatrace.com/gartner-magic-quadrant-application-performance-monitoring-suites/

Seminari korraldavad Dynatrace spetsialistid.



TELLI WEBINAR OMA FIRMASSE







Uuemat informatsiooni meie partnerite, toodete, seminaride kohta leiate [siin]
Software Engineering Center OÜ, Rannaniidu 12,
13516 Tallinn, Estonia, Tel. +372 5014734